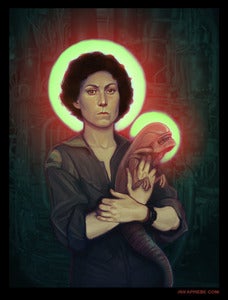 $

10.00
This is an open edition print on matte velvet textured card stock. Each print comes packaged in an archival print bag, put between stiff cardboard for protection during shipping.
It is now available in both 8"x10" and 11"x14" sized paper.
This painting was created for the show "STELLAR: The Women of Science Fiction." This series features seven legendary women juxtaposed with iconic religious imagery.
*INTERNATIONAL SHIPPING* : International shipping is available. If you would like a quote for your shipping, send me a message via the "contact" link and include your address (as specific as possible, as to avoid over-pricing) and the items you would like to order. I will send you a total that you can pay for through PayPal, provided the shipping cost is okay with you. You will be quoted the most economical price I can find. Any duties or taxes would be your responsibility.