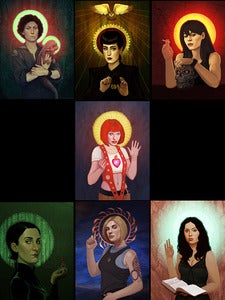 $

500.00
This is a suite of all seven limited edition fine art giclees including: Ellen Ripley, Rachael, Sarah Connor, Leeloo Dallas, Trinity, Kara Thrace, and River Tam.
Suites with matching edition numbers 1-7 are available. Once these sell out, matching numbered suites may be available but are not guaranteed. If they are available, you will receive the lowest matching numbered suite possible.
These are limited edition fine art giclees, measuring 18"x24" on 100% acid free Hahnemuhle cotton photo rag paper, printed with acid free inks. It is a museum grade print.
Only 50 examples of each edition exist. They are hand signed and numbered. Each limited edition print comes with a certificate of authenticity stating its edition number and date of creation.
These paintings were created for the show "STELLAR: The Women of Science Fiction." This series features seven legendary women juxtaposed with iconic religious imagery, highlighting seven archetypes of the science fiction genre.
If you have a request for a specific edition number, please send a message. If is available you will receive it, if it is not you will receive the lowest edition number available.
*INTERNATIONAL SHIPPING* : International shipping is available. If you would like a quote for your shipping, send me a message via the "contact" link and include your address (as specific as possible, as to avoid over-pricing) and the items you would like to order. I will send you a total that you can pay for through PayPal, provided the shipping cost is okay with you. You will be quoted the most economical price I can find. Any duties or taxes would be your responsibility.